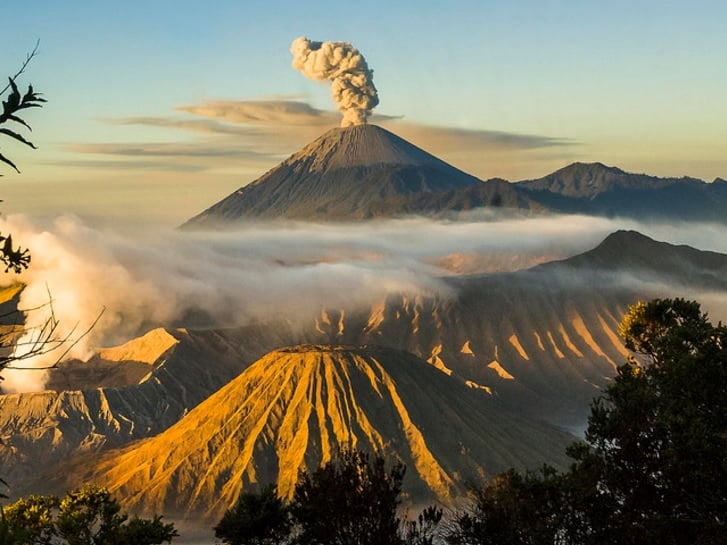 Since Indonesia travel quarantine has been lifted, quite a few foreign tourists have wanted to go on vacation to Indonesia. The most frequently visited holiday destinations are Bali or Lombok, with enchanting beaches. In addition to beach tourism, there is also a tour that foreign tourists often have.It's a volcano tour. Indonesia is included in the Ring of Fire, a series of volcanoes spanning 40,000 km in the Pacific Ocean. In Indonesia alone, there are about 100 active volcanoes. The number of these volcanoes makes tourists curious about the uniqueness there.
Mount Ijen
This mountain is located in East Java, in three different districts: Situbondo, Banyuwangi and Bondowoso. Mount Ijen is very famous for the Ijen Crater, or kawah in English. There you can see the uniqueness of blue fire, which is rare because it only exists in Indonesia and Iceland. To enjoy the beauty of blue fire, you must climb at 1 am to arrive at the crater around 3 am. Your tiredness of climbing paid off as soon as you got here. 
Mount Bromo
Who doesn't know Mount Bromo? This mountain in East Java has stunning natural scenery. The mountain's rough roadways make it ideal for exploring by jeep or horse. On Mount Bromo, tourists can see the sunrise in the air, which is quite cold.
read more : medellinnovation.org
Mount Prau
Located in the Dieng plateau, Central Java, Mount Prau has an altitude of around 2,590 meters above sea level. Many beginner climbers climb this mountain because it only takes 4 hours to reach the top. The dawn atop Mount Prau is so stunning that it has earned the moniker "golden sunrise."
Mount Gede
For those of you who visit the island of Java, especially Jakarta or West Java, you must visit this mountain. Mount Gede is located in Gede Pangrango National Park, West Java. In the vicinity, there are interesting places such as Kandang Batu, Alun-Alun Suryakencana, Cibereum Waterfall, and of course, the peak of Mount Gede.
Mount Kerinci
This mountain in Jambi is 3,805 meters above sea level with a stratovolcano type. According to reports, Mount Kerinci is still erupting regularly as recently as 2022. If you climb to the top of the mountain, you can see beautiful views of the cities of Jambi, Bengkulu, and Padang, also the expansive view of the Indian Ocean.
Mount Kelimutu
Have you ever seen portraits of mountains on the old 5,000 rupiah banknotes? The mountain is Mount Kelimutu. Located in Flores, East Nusa Tenggara, this mountain has a lake with three different colours, called the Three Colors Lake. Getting to this mountain is quite long because it takes about 65 kilometres from the airport. But after making it to the top, you will be amazed by its beauty.